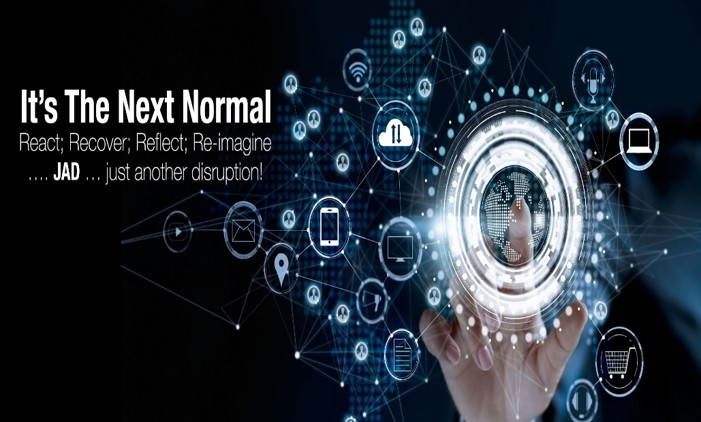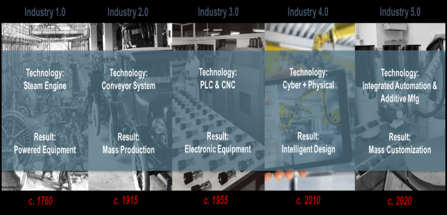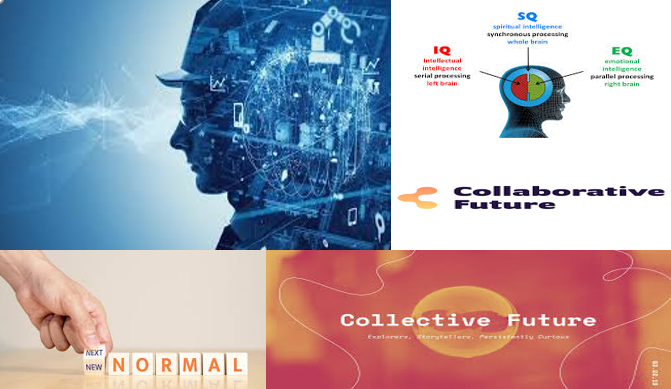 REIMAGINING & RETHINKING the FUTURE

so that our comeback is stronger than the setback.
23 OCTOBER 2020: Port Louis, Mauritius
THE NEXT NORMAL
It has become abundantly clear just about everywhere that we are going to have to get used to waves of disruption and, as a result, a constant epic battle. Healthcare and lives, the economy and livelihoods, and also civil liberties have really been challenged during this period. This is the shot across the Humanity's bows.
Leaders must reimagine and rethink to seize this Black Swan opportunity to reflect "How best can I reset, reboot and restart my organization?" Think very differently. Look for new opportunities, new markets. It is the D-VUCAD moment!
INDUSTRY 5.0
Industry 5.0 is the attempt to rectify the mis-interpretation and mis-steps of Industry 4.0, it the second chance to put human in the centre of everything.
Industry 5.0 will enhance both machine and human roles in the NEXT NORMAL industries, leaving the monotonous, repetitive tasks to the mechanical and opening up the creative side to the biological. This will allow Digital Employees/Super Workers (increasing contingent and remote working) to take on more responsibility and increased supervision of systems to elevate the quality of production across the board (within, intra and inter organizations of the ecosystem).
The idea is that Industry 5.0 creates even higher-value jobs than Industry 4.0, because humans are taking back design responsibility, or work that requires creative thinking. Where Industry 5.0 will differ is in mass personalisation – the human touch. Industry 5.0, therefore, has some elements of anti-industrial sentiments. The irony is that it relies on robots, or cobots ("co" for collaborative).
Industry 5.0 will impact all products and services. More accurately, if it's a product that you otherwise buy from a craftsperson or artist, then in the future, it could be made as a result of Industry 5.0.
LEARNING OUTCOMES
• Acquire latest strategy-people-process-technology techniques on Industry 4.0 & NEXT-NORMAL Digitalisation implementation challenges
• Showcase successful Industry 4.0 agile technologies, standards, solutions & NEXT-NORMAL digitalization collaborative ecosystems
• Understand the latest emerging technologies-operational excellence (IT-OT) & leadership skills to be NEXT-NORMAL-ready in an expanded SMART environment
• Valuable knowledge exchange & networking platform of leadership insights, technology applications, data-driven Artificial Intelligence (Machine Learning-Deep Learning), Extended Realities, horizontal-vertical integrations, sandbox ideas & challenges, case studies, NEXT-NORMAL Readiness, group discussions and practical approaches
• Assimilate from the learning journeys through immersive experiences from NEXT-NORMAL case studies (values/benefits, lessons learnt & policy support)
• Outline 2020-2024 NEXT-NORMAL Action Plans before its expected 2025 Tipping Point.
WHY ATTEND?
Specific Takeaways & Immediate Technique Application
Learn/Acquire
Thriving Habits in the Black Swan Global Pandemic Era in areas of Remote Working, Contingent Workforce, Deep Learning
Unlearn/Breakwith
Obsolete Practices/Old Habits and See in New Light the Fresh Ideas/Perspectives to achieve Extraordinary Results
Relearn/Apply
Invaluable Proven Practical 4IR/i40/Digital Working Techniques gleaned from twelve (12) Insightful Case Studies
WHO SHOULD ATTEND?
C-level & Leaders from:
(Applicable to All Industries/Sectors, Special Emphasis is Highlighted)
FSI
ICT-BPO
Agriculture
SME/Textile/Manufacturing
Tourism
Construction
FSI
ICT-BPO
Agriculture
SME/Textile/Manufacturing
Tourism
Construction
FSI
ICT-BPO
Agriculture
SME/Textile/Manufacturing
Tourism
Construction
FSI
ICT-BPO
Agriculture
SME/Textile/Manufacturing
Tourism
Construction
FSI
ICT-BPO
Agriculture
SME/Textile/Manufacturing
Tourism
Construction
Our Testimonials
What Participants Say
Dale SMITH
Webworx Ltd
It was a truly wonderful experience to participate in the I4.0 Conference! It was very interesting and exciting and a great opportunity to re-connect with colleagues. You and your team did a spectacular job with organizing the conference ... well done!
Bijaye MADHOU
Consultant
Just to say thank you for the refreshing Conference charting the future of our country. Real Education.
Ghunshyam MAHADEA
Orange Business Services
Thanks for organizing the very positive conference held last week.
Sridhar NAGARAJAN
Consultant
It was a pleasure and privilege to be part of this pioneering & trend-setting conference.
Eshan AMIRAN
Consultant
I would like to congratulate you for having put together this successful national event. Well done!
Neemalen GOPAL
Leal Communications & Informatics Ltd
It was a very interesting conference and well organized.
Hashmi HYMABACCUS EL FEZ
University of Mauritius
This conference has helped me acquire much knowledge, insight and skills.
Patrice FERRIERE
Consultant
Thanks for organizing the very positive conference held last week.
Jason Keat Howe SEE
BASS Sdn Bhd
It was a great event and an eye-opening Masterclass that helped us to explore more opportunities. The case studies were great, now we can brainstorm to explore the Industry 4.0 possibilities...
Lai Kuan KONG Kelly
Takaful Malaysia
It was a great session today. Well done in preparation of content and delivery.
Ling Wah LOO
Sunny Sky Consulting
Nice one to show insights to the future. Now, we need to work on the proposed action...
Maxime NC KING
Mauritius Silk Road Ltd
Our Artificial Intelligence will be Robotic? Let's bring this great Masterclass to the LESS privileged communities in AFRICA.
Farhaan AMIRAN
Ernst & Young Ltd
Many thanks for such an outstanding event, providing the best go-to-market insights
Kritanand Maraz BUNDHOO
Consultant
Very Well Done - Keep the Good Work
Natasha Jade WONG CHUNG KI
ABC Banking Corporation Ltd
Speaker of good standard. Interesting and up to date contents.
Parmesh PALLANEE
Harel Mallac Technologies Ltd
I would first of all thank the team for this very fruitful session, it was worth attending.
Steeve KWOK HIN
ABC Motors Co Ltd
Very insightful conference. Keep it up!
Ved Bushancoomar DOMA
MPA
The Masterclass was an enriching platform whereby we were exposed to what is happening in present and what is being forecasted with respect to Industry 4.0.
Zaahirah Bibi Faatimah MAHAMOODALLY
Harel Mallac Technologies Ltd
The event was really professional and the speakers' presentations were really insightful; my favorite was the neuroscience one.
Jean-Simon Venne
BRAINBOX AI
Thank you all for the excellent organisation, it was a pleasure and an honor to participate to the event.
Upcoming Events
2020 i40 Masterclasses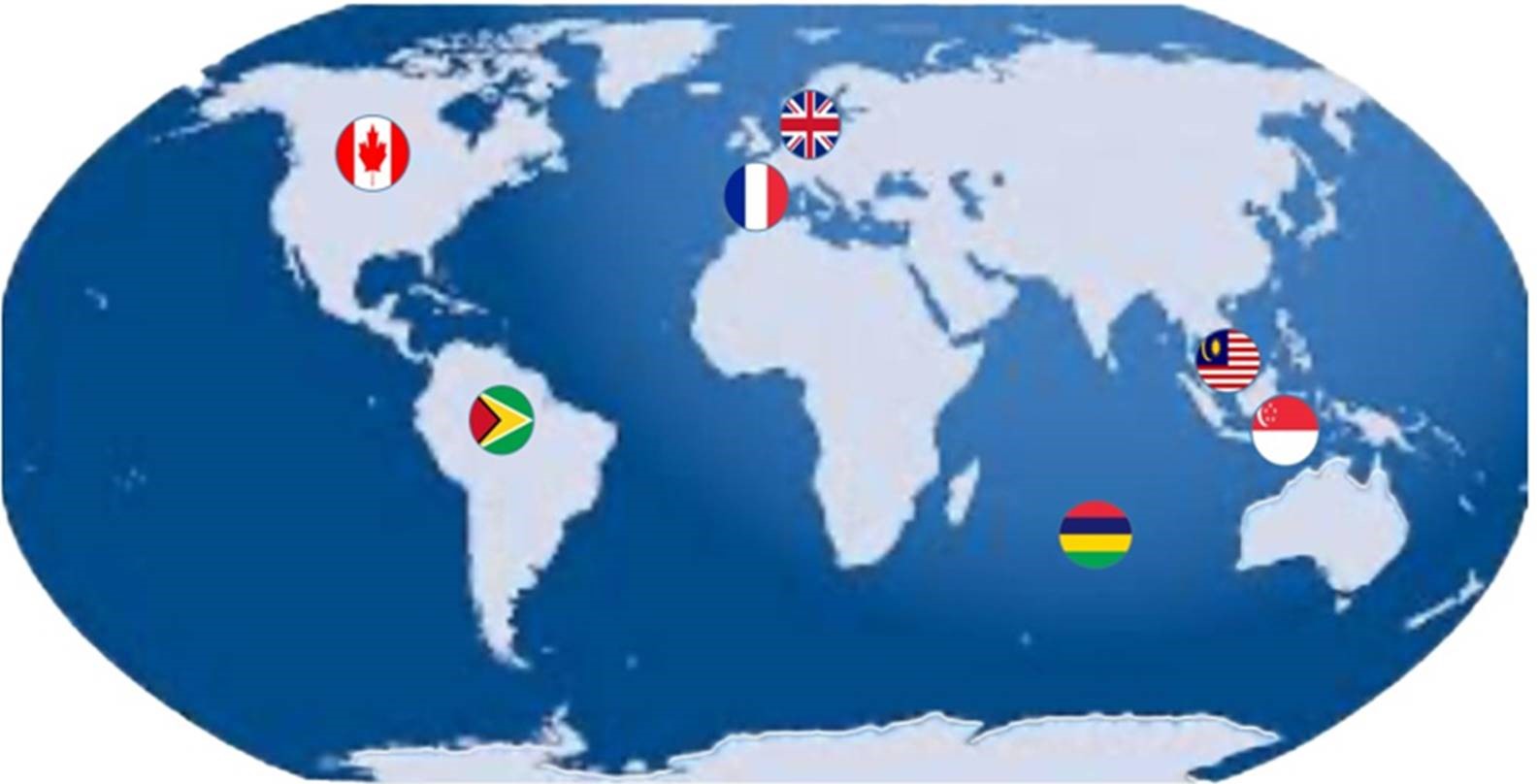 With the exponential changes brought about in exponential times by the 4th Industrial Revolution, it is the survival for the fittest, most nimble and most innovative. Those who have a well-thought through but agile plan and are strategically prepared on how to disintermediate and deliver business values in the Industry 4.0 (i40) era are the ones that will be at the top of the i40 value chain. To achieve this desired business outcome, your 4IR/i40 strategies will have to address the elephant in the room – the Digital Employees with Digital Mindset working with horizontal trust in a Digital Organization, and surviving meaningfully in a Digital Society. Join the Masterclasses for the latest insights and successful techniques – learn, unlearn and relearn!
Mauritius - October 2020
Experience the luxurious event on Mauritius with special participation of . . .
Press Releases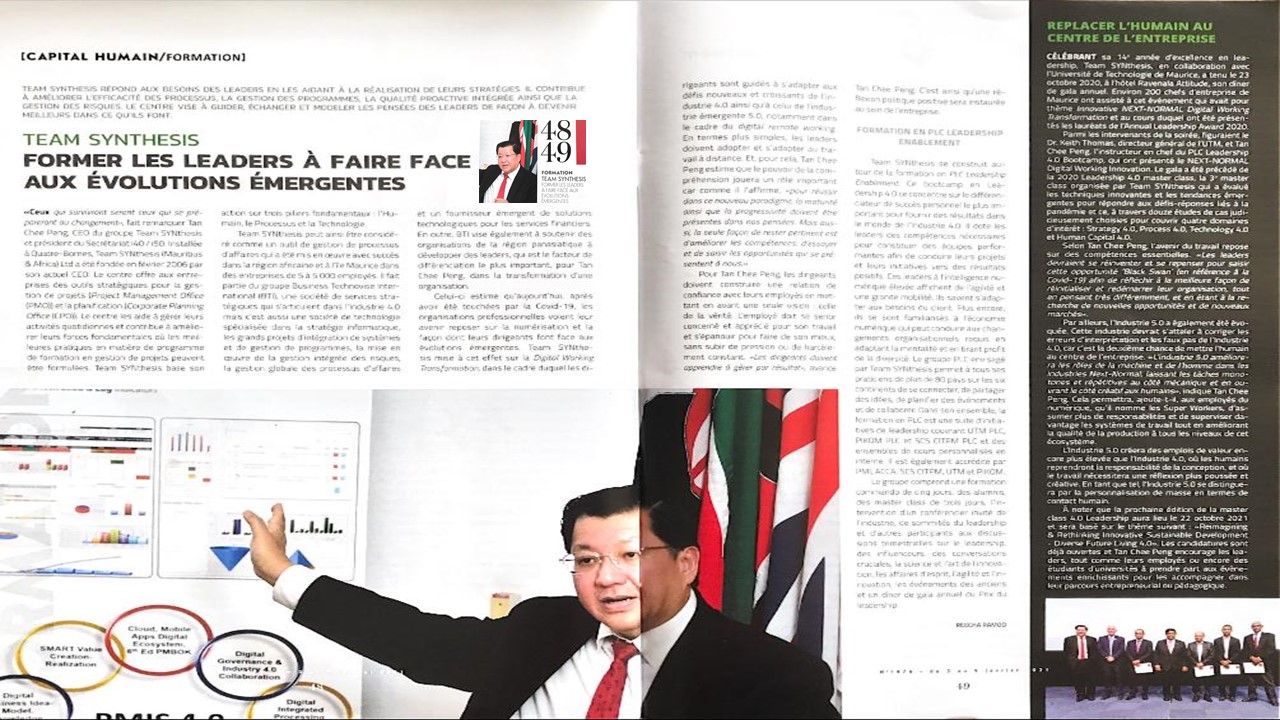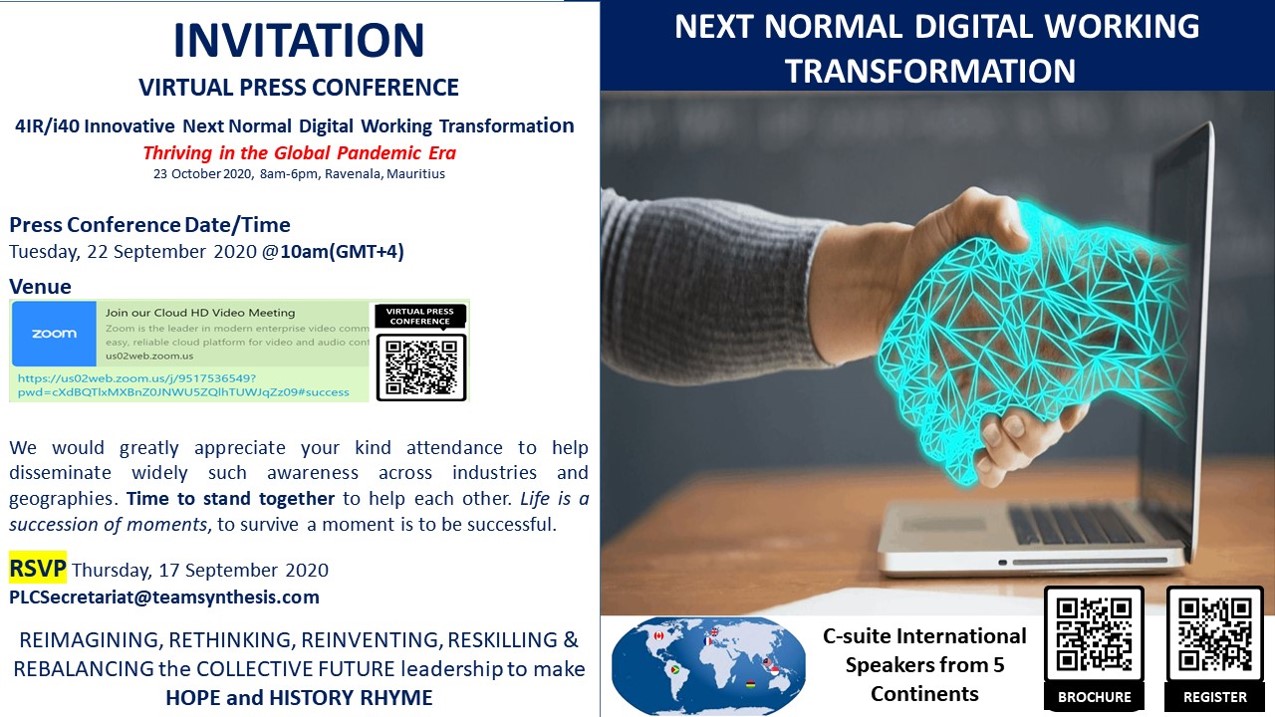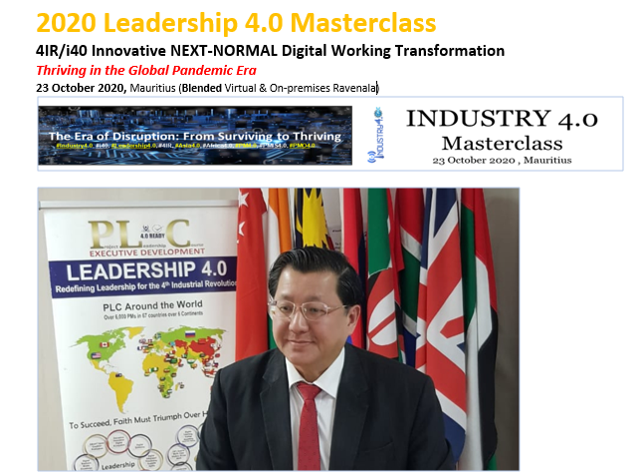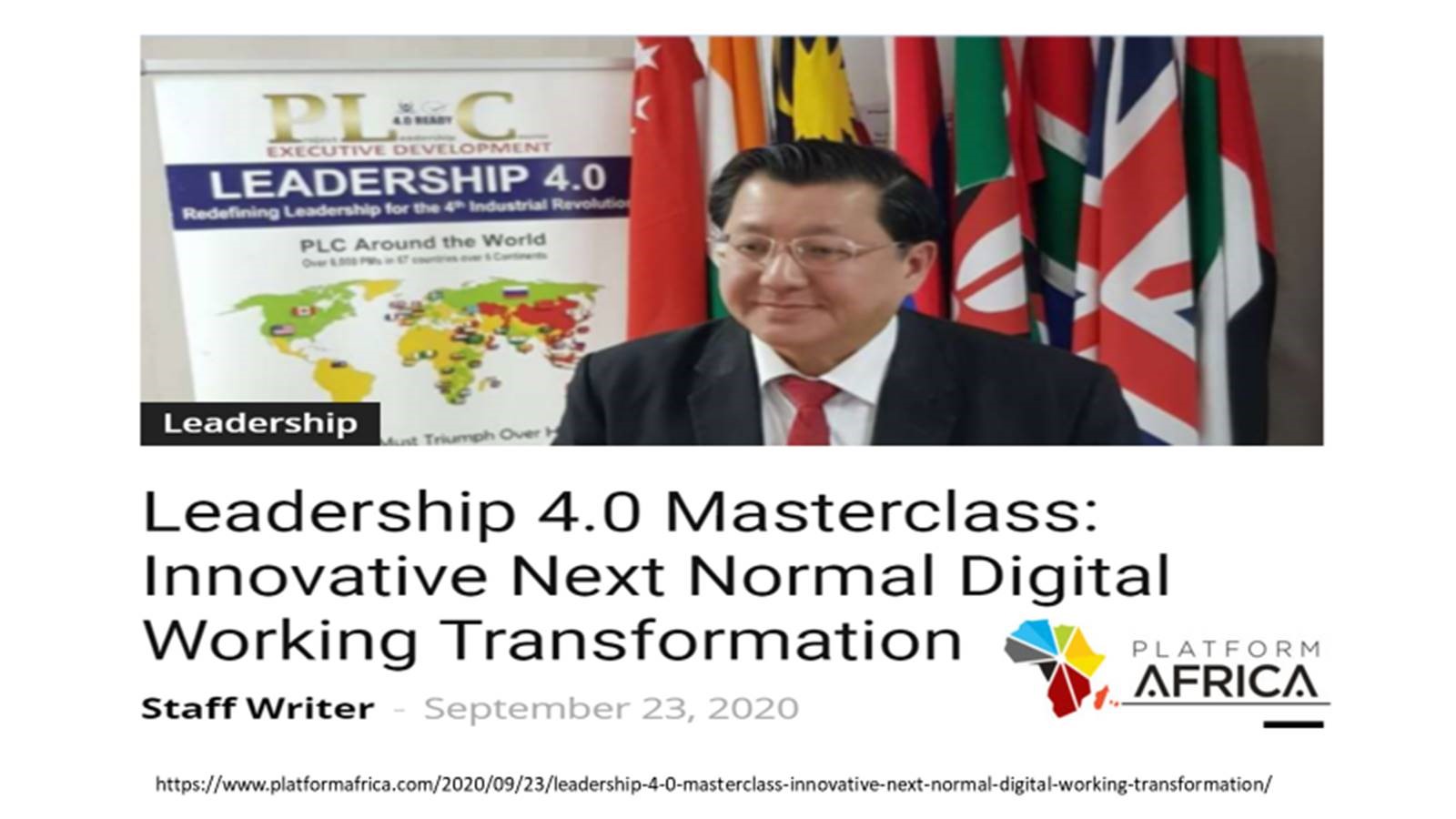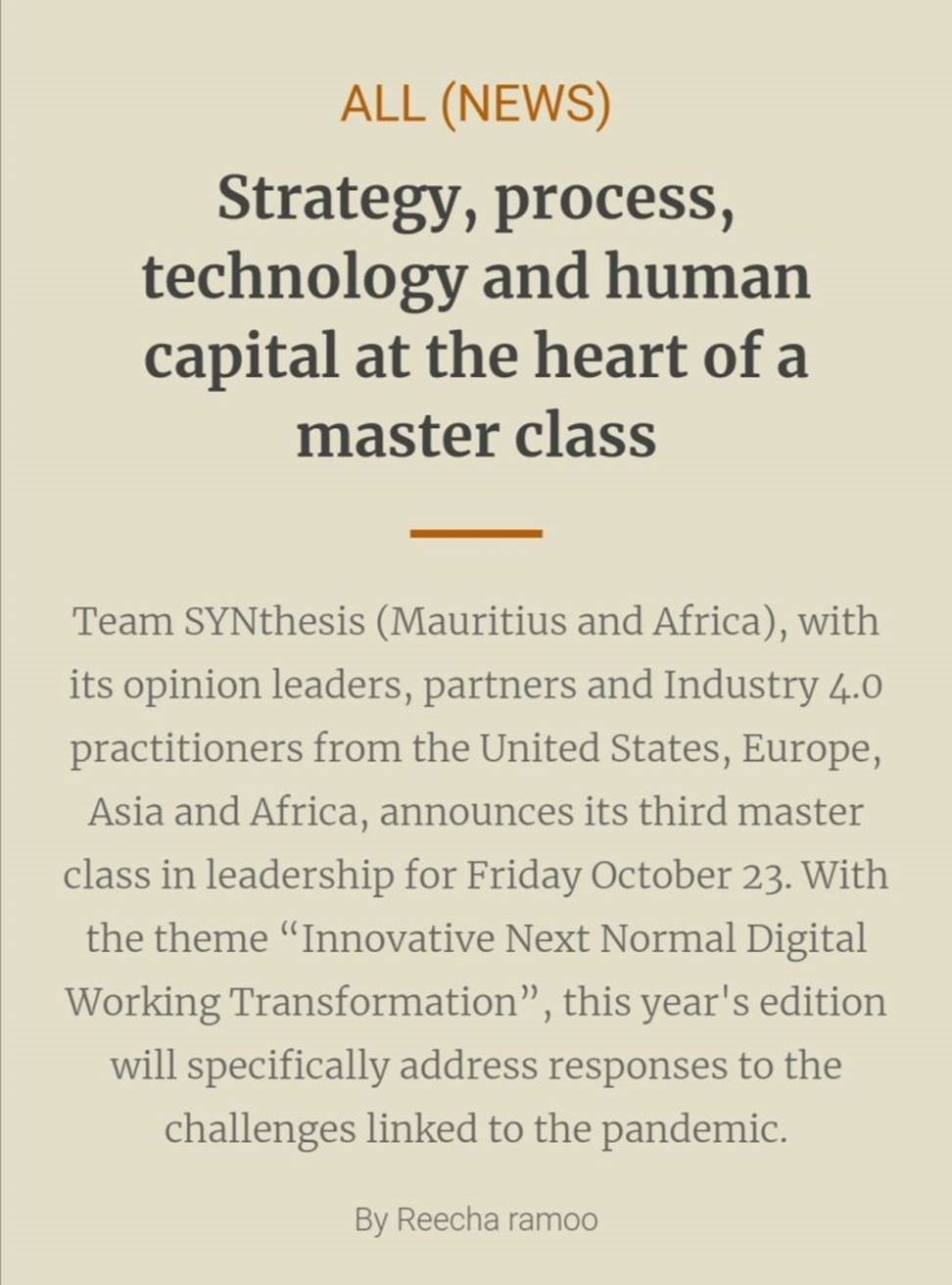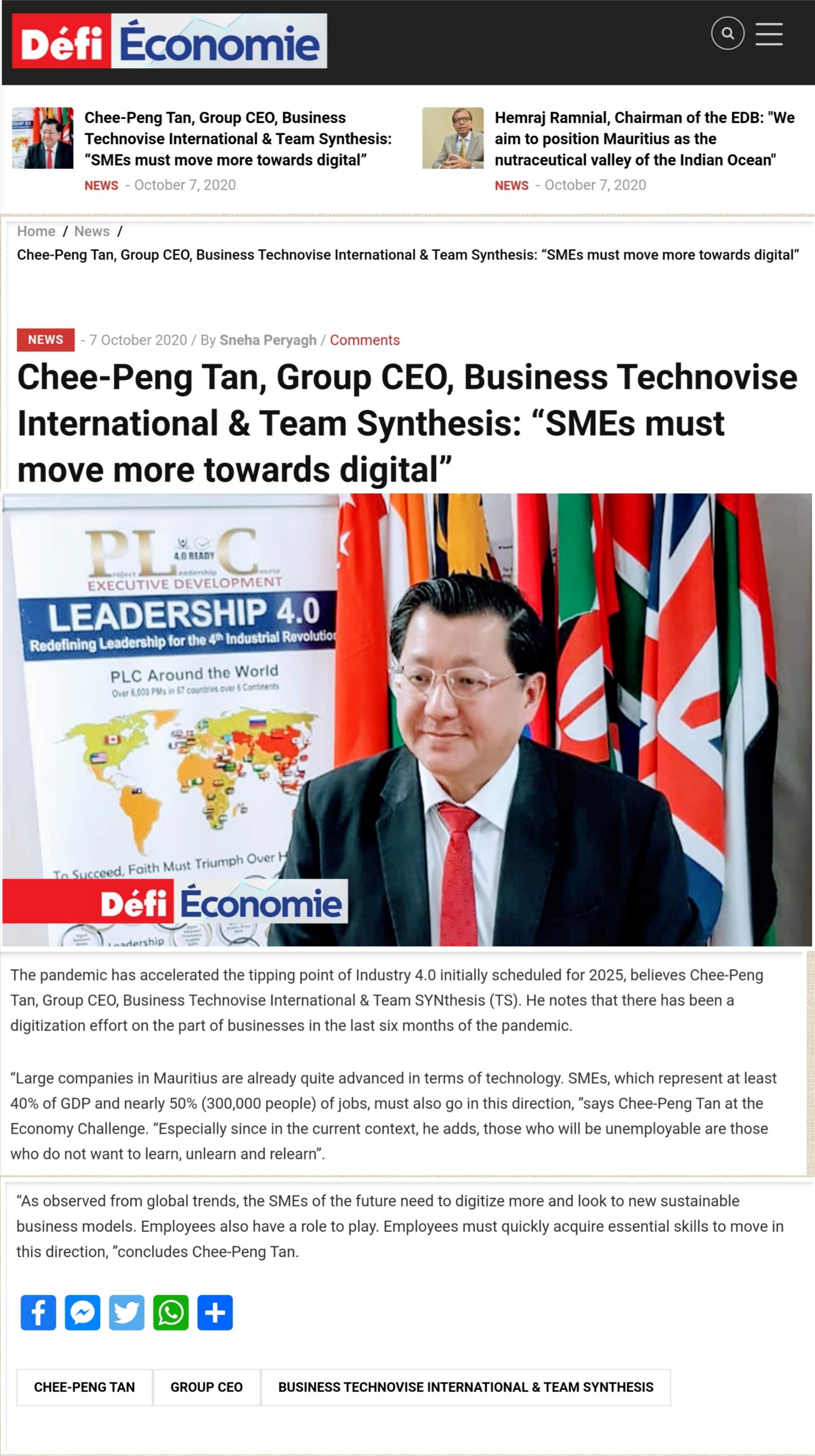 MEET OUR DISTINGUISHED SPEAKERS
C-suite International Speakers from 5 Continents
---
---
---
---
---
---
---
Agenda by Time
GMT +4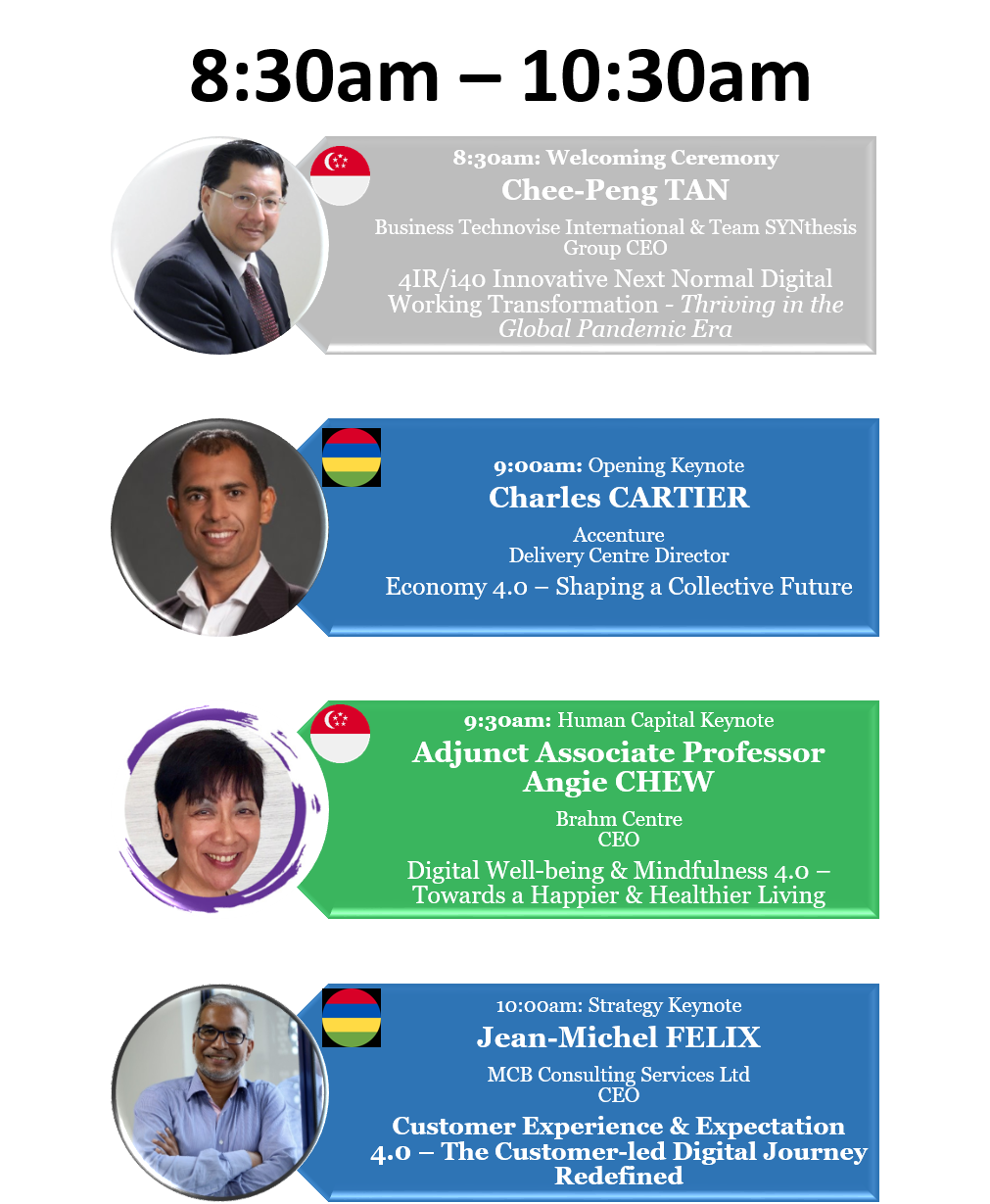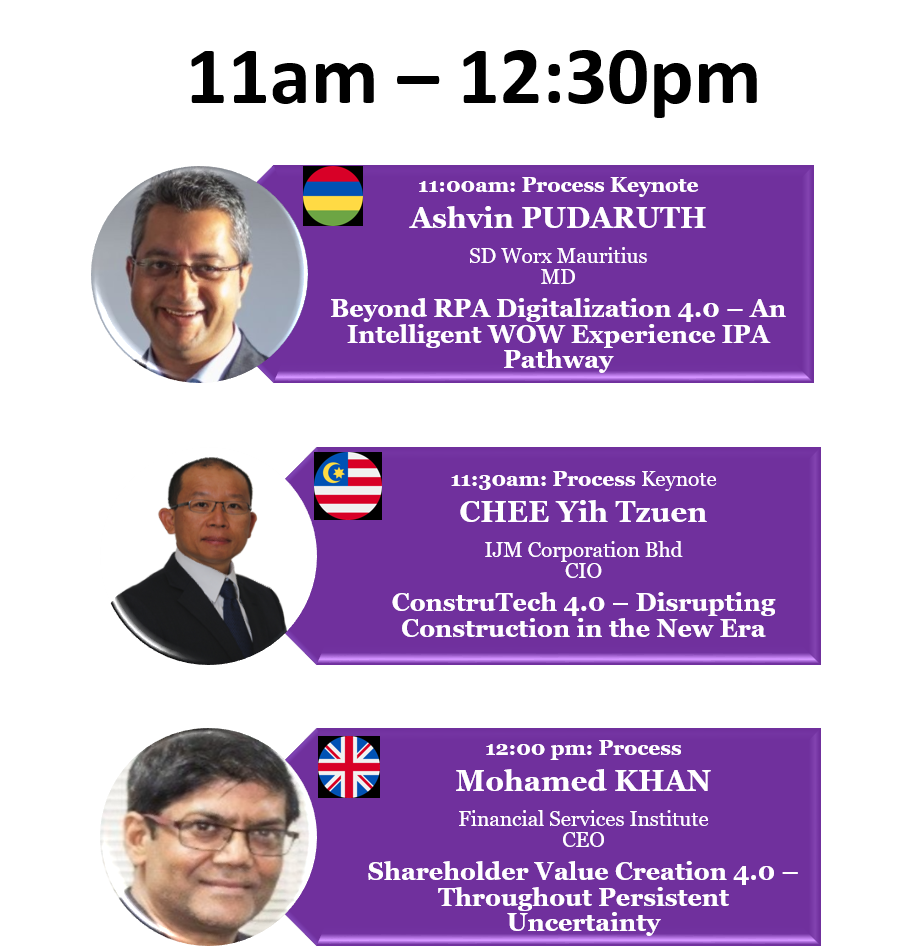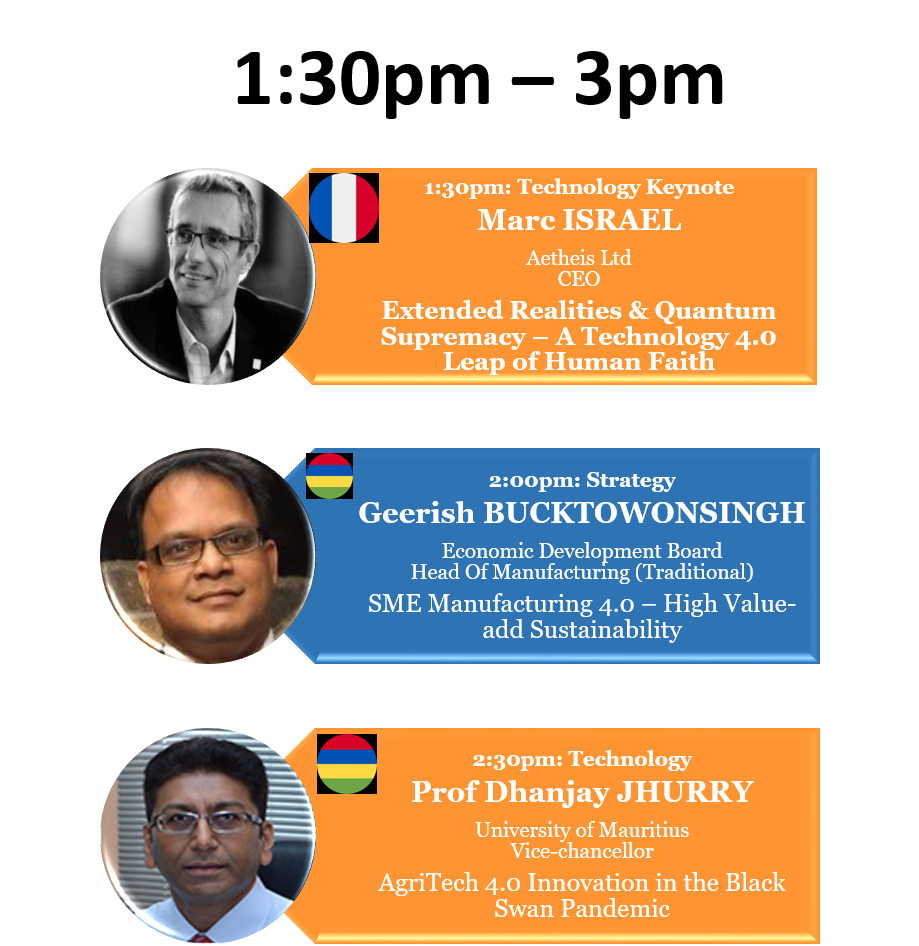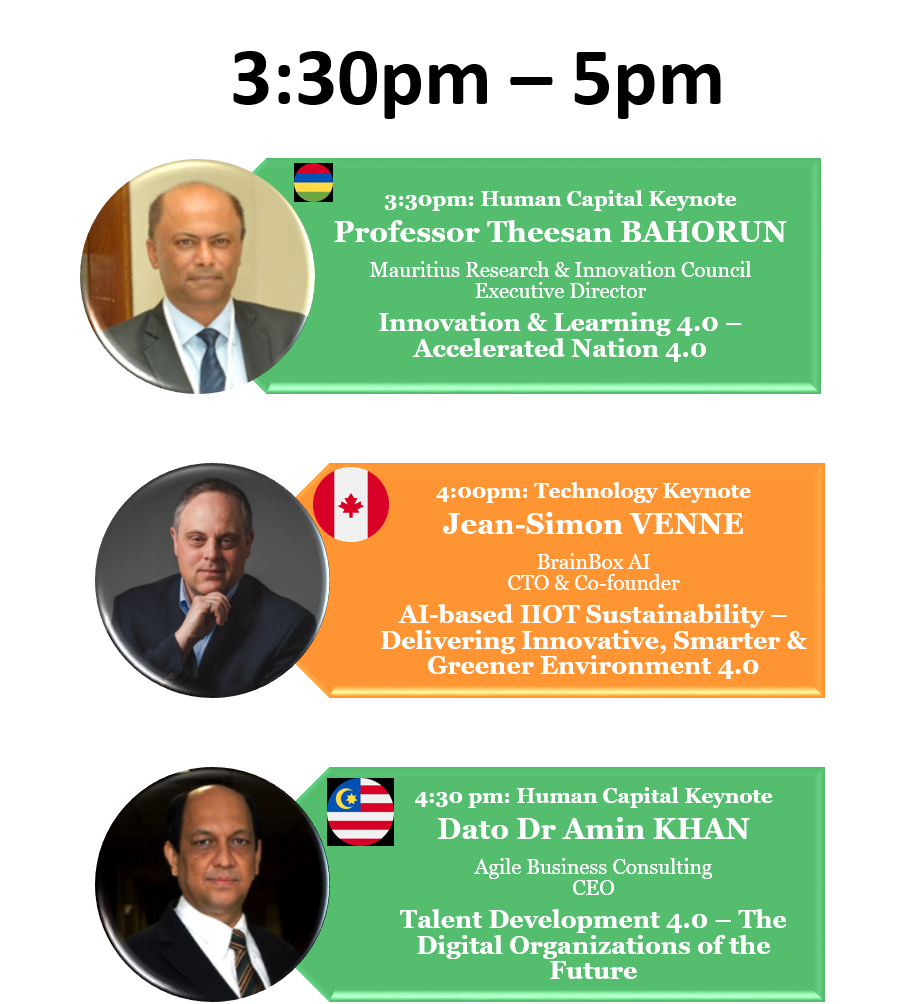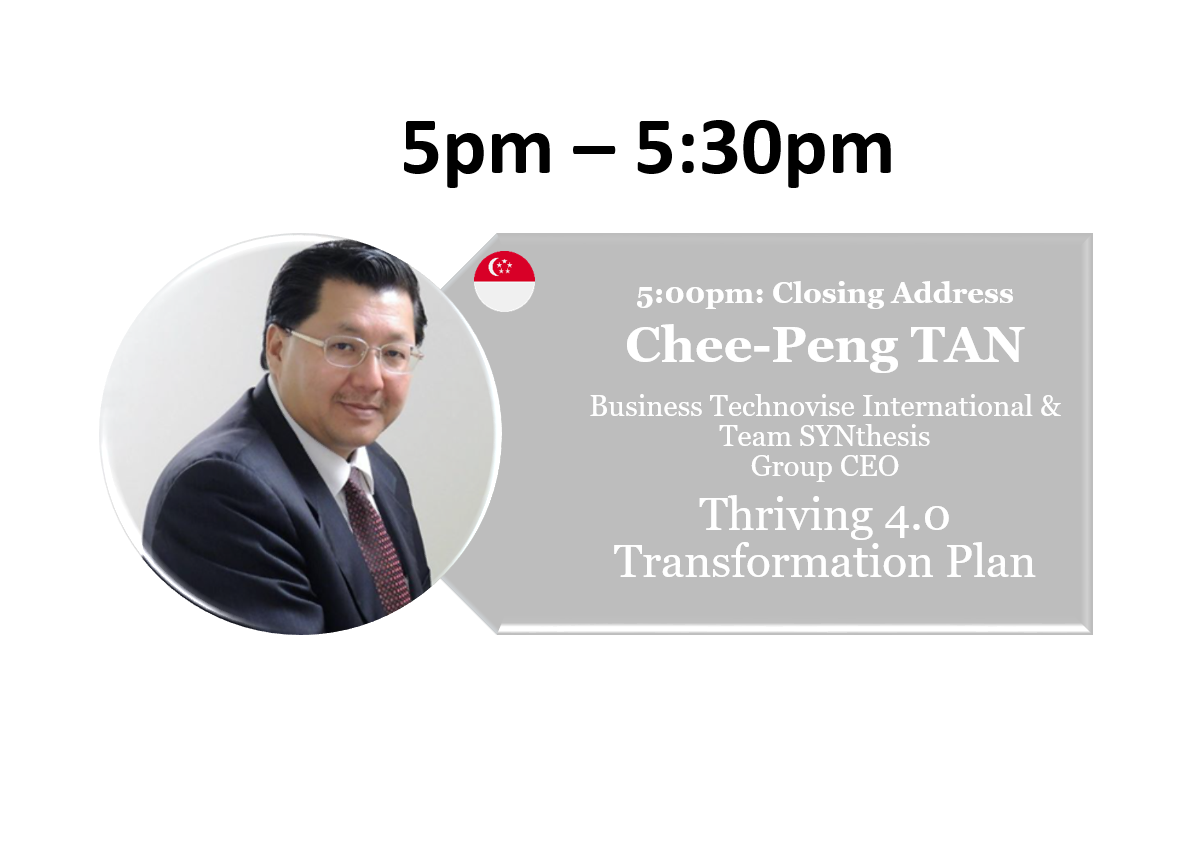 Agenda by Stream
Venue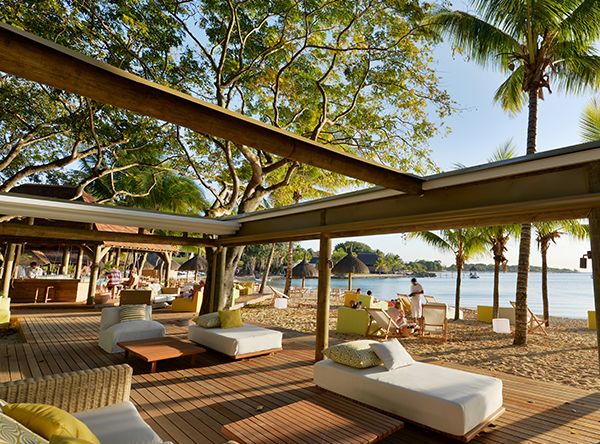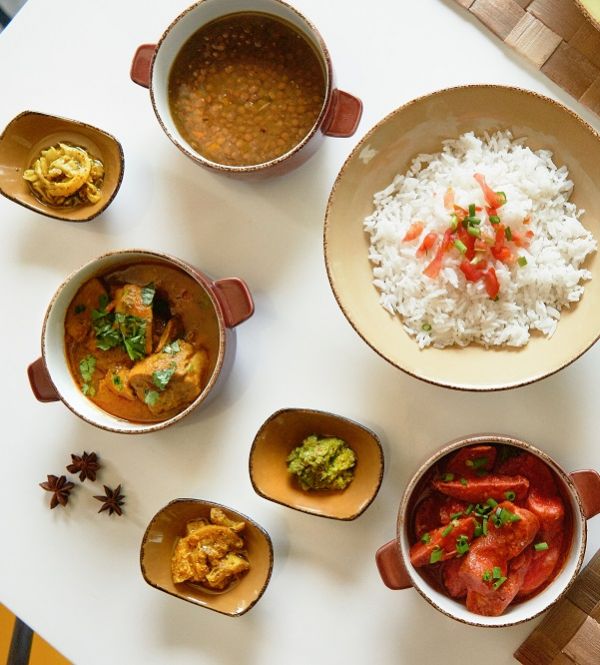 The Ravenala Attitude
In the north-west of Mauritius, in Balaclava, in the heart of a huge exotic garden between sea and river (Citron river), The Ravenala Attitude, a 4-star hotel, invites you to travel. The ravenala, also known as the traveller's tree, gave the hotels its name. According to legend, its long fan-shaped leaves retaining rainwater at their base, in the shape of a cup, have allowed many intrepid travelers to quench their thirst. Here, colonial heritage, contemporary design with tropical accents and the authentic island lifestyle come together elegantly. The interior and exterior spaces blend harmoniously… long live the escape! Let yourself be transported to a beach at the end of the world. Welcome to Paradise.
Sponsors

Supporters